Sports
Andy Murray Receives Heartwarming Father's Day Surprise in Nottingham
In the world of tennis, Andy Murray is a name that resonates with greatness and resilience. The British tennis star has not only fought against formidable opponents on the court but has also battled personal setbacks, including injuries. However, his determination and passion for the sport have always shone through. On Father's Day, Murray received a heartwarming surprise that added another chapter to his inspiring journey.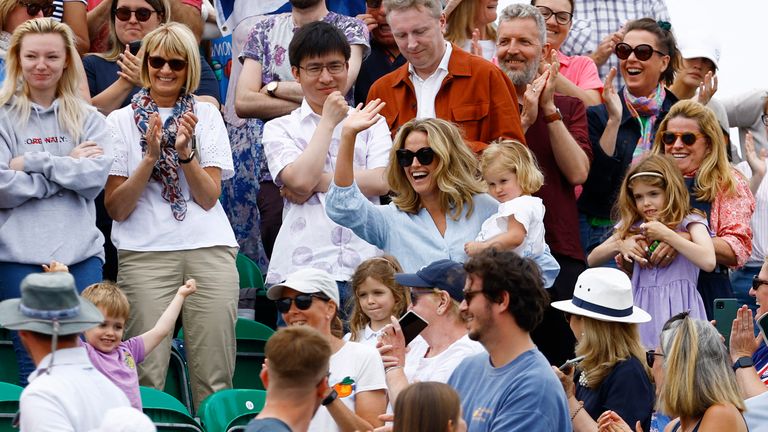 A Champion's Triumph at Rothesay Open
Andy Murray's incredible journey at the Rothesay Open in Nottingham culminated in a thrilling victory, securing his third Challenger title this year. In a captivating final against Arthur Cazaux of France, Murray showcased his prowess, emerging victorious in straight sets with a scoreline of 6-4, 6-4.
A Surprise for Andy Murray
As Murray stood tall on the podium, basking in the glory of his win, he was completely unaware of the heartwarming surprise awaiting him. Little did he know that his beloved wife, Kim Sears, and their four
children were present in the crowd, eagerly cheering him on. The joy and pride that filled Murray's heart upon seeing his family in the stands were immeasurable.
A Father's Day Celebration
Andy Murray's victory speech resonated with elation and gratitude. The 36-year-old tennis champion expressed his delight at the win and his eagerness to participate in the upcoming ATP 500 Queen's Club Championships. However, what truly made the moment special was Murray's mention of Father's Day.
He expressed his excitement about returning home with the trophy to celebrate the cherished occasion with his children.
A Beautiful Family Bond
The love and support of family are often the pillars that strengthen a person's resolve and inspire them to achieve greatness. Murray's marriage to Kim Sears in 2015 marked the beginning of a beautiful journey that they embarked upon together. Throughout the years, their bond has grown stronger, and the couple has been blessed with four wonderful children.
An Unexpected Surprise
As Andy Murray gazed out into the crowd, his eyes met the familiar faces of his children. The tennis star was taken aback by their presence, as they had managed to keep their arrival a secret. During his speech,
he recounted how his children had missed witnessing his Surbiton Trophy victory the previous week due to a rain delay. Their return home for bedtime had left them with the bittersweet feeling of missing out on celebrating their father's remarkable achievement.
A Cherished Moment
As per New york post , The sight of his family at the Rothesay Open was a precious gift that filled Andy Murray's heart with immense joy and gratitude. He took a moment to express his appreciation to his wife and children for their unwavering support. Their presence in the crowd symbolized the unbreakable bond they shared, one that transcended the world of tennis and reflected the strength of their family ties.
A Triumph Over Adversity
Andy Murray's journey back to the top ranks of tennis has been arduous, marked by numerous obstacles. In recent years, he has battled injuries that threatened to derail his career. However, Murray's determination, resilience, and
relentless pursuit of excellence have carried him through the darkest times. His return to the World Top 40 rankings, for the first time in five years, is a testament to his unwavering spirit.
An Inspirational Comeback
The road to redemption for Andy Murray began with his runner-up finish at the ATP 250 Qatar Open, where he demonstrated his unwavering competitive spirit. Since then, he has experienced a resurgence in form, particularly on the Challenger circuit.
The triumph at the Aix-en-Provence claycourt event marked his first Challenger trophy in nearly two decades, followed by his recent victories in Surbiton and Nottingham.
An Exciting Future Ahead
As Andy Murray carries the momentum of his recent successes into the Queen's Club Championships, the anticipation surrounding his performance continues to grow. With five previous wins at the prestigious tournament,
Murray has established himself as a force to be reckoned with on grass courts. His opening-round match against Australia's Alex de Minaur promises to be an enthralling battle between two talented athletes.
Embracing the Joy of Fatherhood
While Andy Murray's achievements on the tennis court have captivated audiences worldwide, his dedication to his family serves as a reminder of the importance of finding balance and embracing the joys of fatherhood.
The love and support of his wife and children have undoubtedly played a pivotal role in his journey, providing him with the strength and motivation to overcome challenges and excel in his craft.
Celebrating Andy Murray's Triumph
As fans and admirers of Andy Murray, we celebrate his remarkable triumph at the Rothesay Open and his enduring spirit. His unwavering dedication, both on and off the court, serves as an inspiration to all.
Murray's journey is a testament to the power of resilience, the bonds of family, and the pursuit of one's passions. We eagerly await his future endeavors and wish him continued success in his pursuit of greatness.