Sports
Casper Ruud Triumphs Over Nicolas Jarry to Secure French Open Quarterfinal Berth
In a thrilling encounter at the French Open, World No.4 Casper Ruud displayed his exceptional skills and tenacity to defeat Nicolas Jarry and advance to the quarterfinals of the men's singles event. The Norwegian tennis sensation overcame a resilient challenge from Jarry, ultimately securing a 7-6(3), 7-5, 7-5 victory. With an impressive display of mental fortitude and strategic gameplay, Ruud proved his mettle on the clay courts of Roland Garros.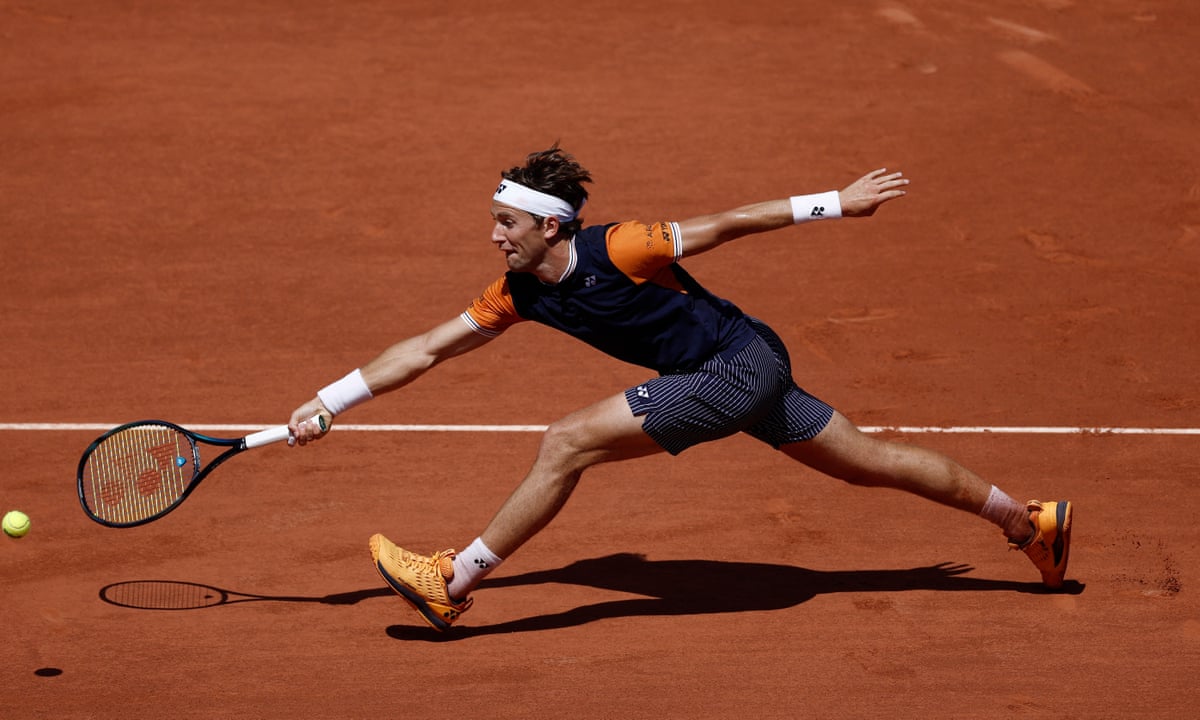 Casper Ruud
From the opening exchanges, it was evident that both players were determined to seize control of the match. Ruud, known for his solid baseline game, faced a formidable opponent in Jarry, who unleashed a barrage of powerful groundstrokes and booming serves. The Chilean's aggressive play kept Ruud under constant pressure, but the Norwegian showcased his defensive skills and consistency at crucial moments.
Thrilling Sets and Comebacks
The first set saw an intense battle, with neither player yielding ground easily. Ruud managed to outlast Jarry in a closely contested tie-break, showcasing his ability to maintain composure under pressure. The second set presented a significant challenge for Ruud as he found himself trailing 1-4. However, the Norwegian displayed remarkable resilience, saving a break point at 1-4, 30/40 to hold his serve. This pivotal moment demonstrated his unwavering determination and marked a turning point in the match.
Ruud's Superior Consistency
According to Sportsgrail, Throughout the match, Ruud's consistency and ability to deliver high-quality shots proved to be the decisive factor. Despite Jarry's powerful winners, the Norwegian remained composed and relied on his defensive skills to neutralize his opponent's aggression. Ruud's ability to raise his level when it mattered most allowed him to keep Jarry within striking distance and seize control of crucial moments.
Avenging a Recent Defeat
This victory held a special significance for Ruud as it avenged his narrow loss to Jarry in a quarterfinal clash in Geneva just 11 days prior. The Norwegian's determination to rectify that defeat was evident as he left no stone unturned in his pursuit of victory. While Jarry fought valiantly and showcased his immense potential, Ruud's consistency and ability to adapt to the situation proved to be the deciding factors.
Setting his Sights on the Quarterfinals
With this win, Ruud secured his place in the quarterfinals of the French Open, a stage he reached last year as well. The 24-year-old Norwegian has established himself as a force to be reckoned with on clay, amassing an impressive 85 victories on the surface since 2020, the most among all players on the Tour.
As he looks ahead to the next round, Ruud will face a tough challenge in the form of Holger Rune, who defeated Francisco Cerundolo in a five-set battle. Ruud's experience and determination, combined with his exceptional clay-court prowess, make him a formidable contender in the tournament.
.