World News
Mogul Indicted for Fatal Shooting in Wall Urination Incident
A Key West businessman faces serious charges in a tragic incident that unfolded outside a local bar. Lloyd Brewer III, a prominent figure in the Key West real estate industry, has been indicted on first-degree murder and other charges. The charges stem from his fatal shooting of Garrett Daniel Hughes, the son of a high school football coach, who had relieved himself on a wall. This shocking incident has left the victim's family devastated and the city of Key West in mourning.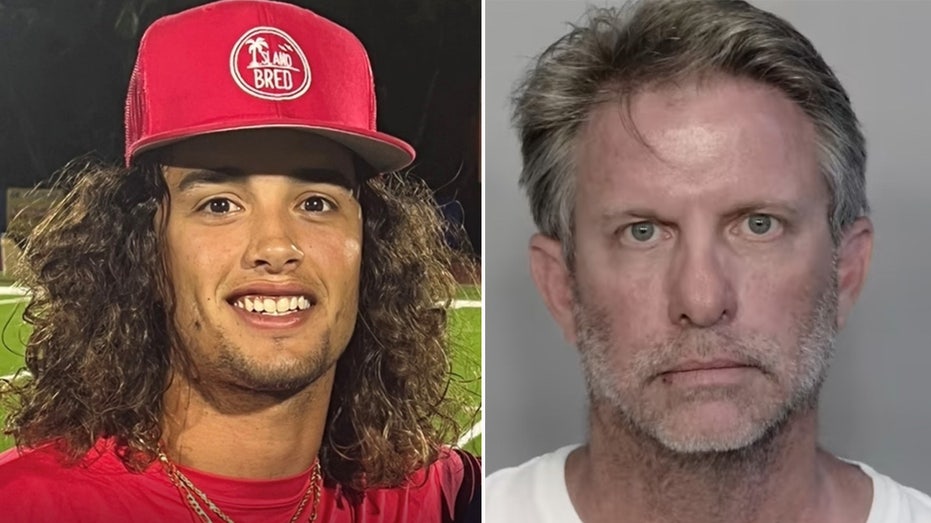 The Indictment and Previous Charges
Initially, Brewer faced a top charge of second-degree murder for opening fire on 21-year-old Garrett Daniel Hughes. However, the indictment has since been upgraded to first-degree murder. The shooting took place on February 13 in front of the victim's brother outside Conch Town Liquor & Lounge, which is located in a strip mall owned by Brewer on North Roosevelt Boulevard in the New Town neighborhood.
The Victim's Family and Lawsuit
Stuart Grossman, the attorney representing the victim's family, expressed their profound grief over this senseless act of violence. Garrett Daniel Hughes was widely known and admired for his athletic skills and vibrant personality in Key West. His father, John Hughes, is the esteemed head football coach at Key West High School, where Garrett was a standout athlete in both football and lacrosse. Grossman is also pursuing a wrongful death lawsuit on behalf of the Hughes family against Brewer.
Opposing Brewer's Release on Bond
As per New York post, In a 101-page memo filed on June 7, Grossman vehemently opposed Brewer's release on bond, citing the family's extreme wealth and Brewer's prior criminal record as factors that make him a flight risk. The memo also highlights the Brewer family trust's ownership of 16 properties in Georgia alone, underscoring their considerable assets.
The Shooting Incident
According to court papers, Brewer claimed that he did not know Hughes, who was simply hanging out at the bar with his brother, Carson Hughes, and their friends, Blake Arencibia and Logan Pellicier. Carson Hughes, Arencibia, and Pellicier were all employed by the Key West Fire Department at the time. Shortly after midnight, surveillance footage captured Garrett Hughes walking out of the bar shirtless and approaching the wall of another building. Brewer can be seen on the video reaching into his waistband and advancing toward Hughes as the young man faces the wall and relieves himself. Prosecutors assert that Brewer pointed his gun at Hughes, who was unarmed, and a brief scuffle ensued. It was during this scuffle that Brewer fired the fatal shot, resulting in the young man's untimely death. Carson Hughes, who witnessed the killing, is also seen in the surveillance footage.
Contradicting Claims and Evidence
Brewer promptly called 911 following the shooting and alleged that Garrett Hughes was the aggressor. However, the video evidence contradicts Brewer's claim of self-defense. Prosecutors argue that the video clearly shows Brewer advancing towards Hughes, pointing his gun at him, and ultimately firing the fatal shot. The 911 transcript obtained by Local10News reveals Brewer's statement that Hughes approached him aggressively in the parking lot of Conch Town.
Legal Representation and Accusations
Brewer is currently being held without bond at the Monroe County Sheriff's Office. His attorney, Chris Mancini, declined to comment on the case. Grossman, on the other hand, described Brewer as a "known, habitual drunkard" in the wrongful death lawsuit, and he vehemently asserts that the murder was unjustified and premeditated.
Remembering Garrett Daniel Hughes
Garrett Hughes, a recent high school graduate, had considered joining the Key West Fire Department like his brother. However, he chose to pursue his passion for diving and fishing instead. Described as a vibrant and talented young man, Garrett is survived by his father, John Hughes, his mother, Lesley Touzalin, and his five brothers.