World News
Tamil Nadu Minister Arrest Followed by Hospital Recommendation for Bypass Surgery

Tamil Nadu Minister V Senthil Balaji, a prominent leader of the DMK party, was arrested by the Enforcement Directorate (ED) in an alleged money laundering case. Shortly after his arrest, Mr. Balaji was taken to a hospital for a medical checkup. However, the situation took a dramatic turn as the minister broke down in tears while being transported in an ambulance. The hospital has now suggested that he undergo bypass surgery due to triple vessel disease detected during a coronary angiogram. The arrest and subsequent hospitalization have sparked emotional scenes and political controversies in Tamil Nadu.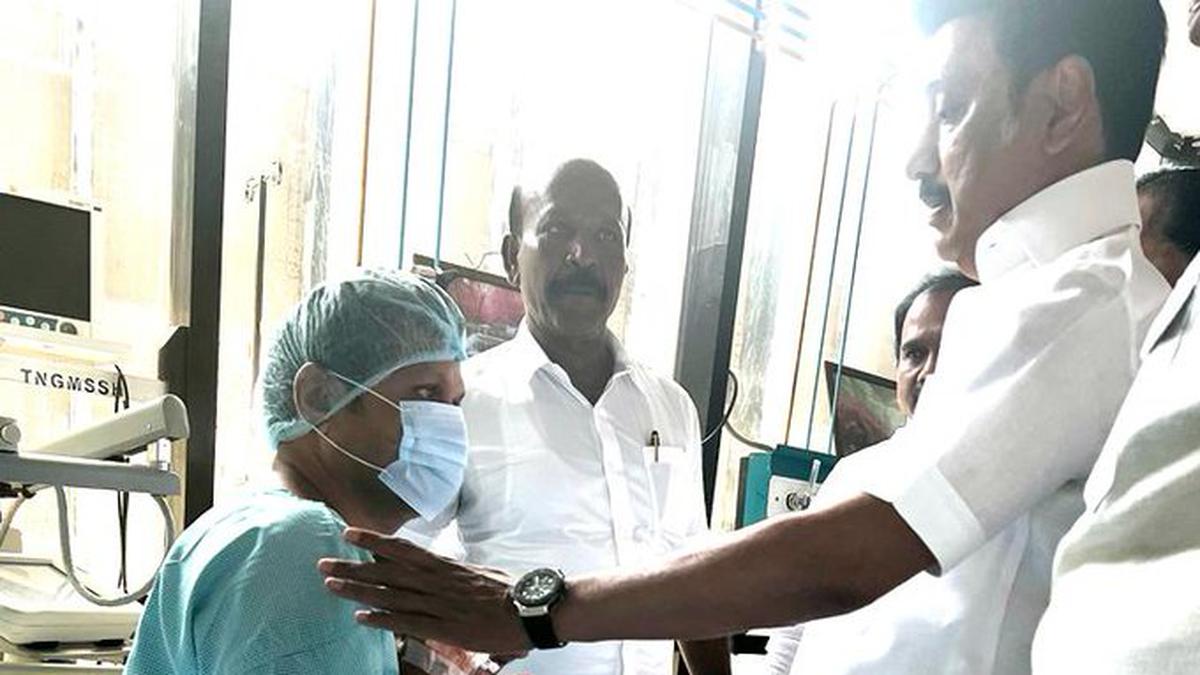 Tamil Nadu Minister Arrest and Hospital Scenes

The ED raided Mr. Balaji's home on Tuesday before taking him into custody for questioning. After several hours of interrogation, the minister was arrested. When the ED officials accompanied him for a medical examination, scenes of distress unfolded at a government hospital in Chennai. Mr. Balaji was seen weeping in the ambulance, while his supporters outside expressed their opposition to the actions of the Enforcement Directorate. The minister's emotional state continued at the hospital, where he was taken out of the ambulance while still in tears.
Medical Condition and Allegations of Torture

According to the hospital, the coronary angiogram revealed triple vessel disease, a condition that necessitates CABG (coronary artery bypass grafting) surgery as soon as possible. Mr. Balaji is currently in the ICU and was initially unresponsive. A swelling near his ear and abnormalities in his electrocardiogram (ECG) have raised concerns about possible mistreatment. DMK leader PK Sekar Babu has alleged that the symptoms indicate torture. The party has vowed to confront the situation legally and accused the BJP of intimidation.
Legal Action and Political Fallout

According to NDTV, Following Mr. Balaji's arrest, his wife has approached the Madras High Court, seeking urgent intervention in the case. She alleges that the arrest was carried out without prior notice or summons. Tamil Nadu Chief Minister MK Stalin visited Mr. Balaji at the hospital and criticized the BJP-led central government for what he perceives as politically motivated actions. The DMK has accused the BJP of targeting the party after its defeat in recent assembly elections in Karnataka. Chief Minister Stalin condemned the ED's searches at the Tamil Nadu Secretariat, calling it a violation of the country's federal structure.
Background and Investigations

Prior to the arrest, Income Tax authorities conducted searches on properties associated with Mr. Balaji's acquaintances across the state. The Supreme Court had granted the Enforcement Directorate permission to investigate allegations of cash-for-jobs against Mr. Balaji during his tenure as a minister in the AIADMK government led by Jayalalithaa. The Supreme Court also allowed the agency to proceed with its investigation into the alleged money laundering case. The DMK party has maintained that the BJP is resorting to intimidation tactics against its political rivals.