World News
Paris Explosion Dozens Injured as Blast Rocks City Center
A devastating explosion in central Paris has left at least 37 people injured, four of them seriously, as emergency workers scramble to search through the wreckage of a building housing a design school and the Catholic education system headquarters. The incident, which occurred on Rue Saint-Jacques in the fifth arrondissement of the French capital, has raised concerns and prompted a swift response from authorities. While witnesses reported a strong smell of gas prior to the blast, the exact cause is yet to be determined.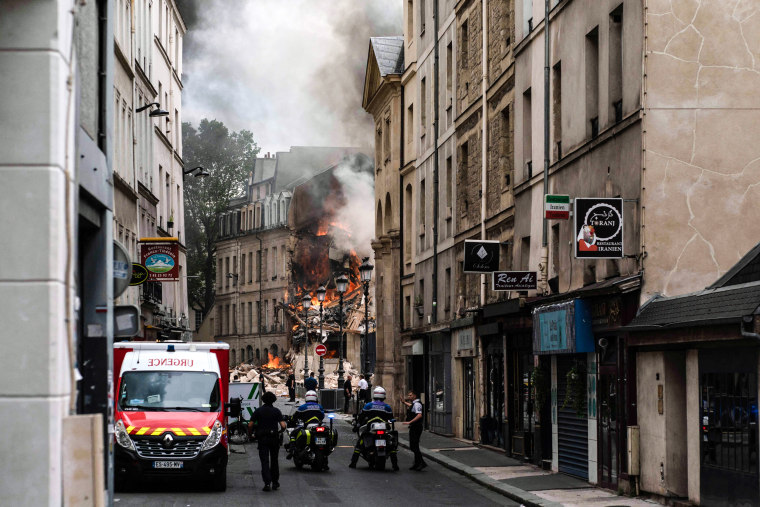 Paris Explosion
Rescue teams are working tirelessly to locate any survivors and assess the extent of the damage caused by the explosion. Two individuals are currently reported as missing, adding to the urgency of the search efforts. The building, located next to the Val de Grâce church, was initially engulfed in flames, but firefighters managed to bring the blaze under control, preventing further destruction. Paris prosecutor Laure Beccuau has arrived at the scene and initial investigations, including a review of camera footage, indicate that the explosion originated within the building.
Authorities Respond
The affected area has been cordoned off, and Interior Minister Gérald Darmanin has visited the scene to coordinate response efforts. Sniffer dogs have been deployed to help locate potential victims trapped beneath the rubble. The incident has raised concerns about public safety and the need for a thorough investigation into the cause of the explosion. While local deputy mayor Edouard Civel attributes the blast to a gas explosion, authorities are cautious and are conducting a comprehensive assessment to determine the precise trigger.
Eyewitness Accounts
According to BBC News, Eyewitnesses have provided harrowing accounts of the explosion. A student at Ecole des Mines, situated nearby, described hearing a deafening boom and witnessing a massive ball of fire towering over the area. The subsequent collapse of the building created a thunderous noise, leaving witnesses shocked and disoriented. Many reported detecting a strong smell of gas prior to the explosion, further fueling speculation about a potential gas leak. Antoine Brouchot, another witness, shared his experience of the incident, recounting the sight of a large cloud of smoke and a building reduced to rubble.
Investigation and Impacts
As investigations into the cause of the explosion continue, authorities are grappling with the immediate aftermath of the incident. The affected area, known for its popularity among tourists and students, is reeling from the impact. The blast has caused significant damage to the surrounding buildings and infrastructure, leaving the community in shock. With the safety and well-being of the affected individuals as the top priority, authorities are working diligently to assess the structural integrity of nearby structures and ensure the area is secure.