Kim took to her Instagram handle and remembered her deceased father, Robert Kardashian on his 77th birth anniversary. Her sister Khloe and Kourtney also shared photos. The reality show star put an old picture of her father posing with her, Rob, Kourtney, and Khloe Kardashian. 
She also penned an emotional note to her father, where she confessed to dialing his number and hoped to have a conversation with him. She wished her late father a happy birthday and said that she celebrates him every single day but more on his birthday. She added that she has a lot to speak to him about. She even dialed his phone number and just wondered if someone could pick after so many years. She did not believe that she still remembered it. She asked him to give her a visit in her dream soon.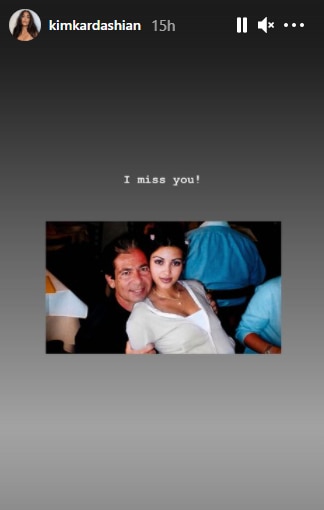 She asked him if he could send some sign to her in the form of some symbols/birds they used to talk about. She concluded her note by saying that she missed him very much. She shared many photos of Kardashian family members.
Khloe wrote in the comments section 'I Love you, daddy'. Also, she shared an unseen video of her father and said that she misses him every single day. And that everyone there misses him. She said that she knows he was in a better place, but it is not easy for her. And concluded with a love you note.
Kylie Jenner took to the comments section and wished Robert and wrote 'Happy birthday uncle Robert!' Kourtney shared a picture of hers and Robert and messaged 'Happy birthday to the best daddy in the world'. The family has a lot on their plate after Kim has filed for a divorce from her husband Kayne West. Kim's decision to separate from Kayne comes after his public meltdown during the Presidential Campaigns, followed by tweets against Kim's mother.